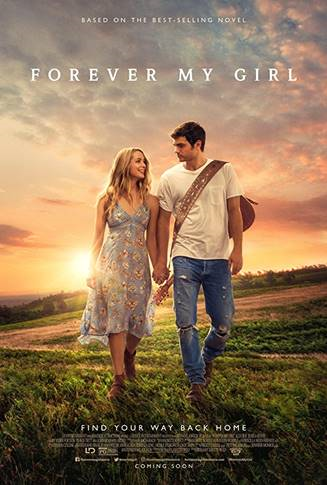 Have you ever wanted passes to a movie screening!?!  Here is your chance to get those passes, and for free!  We're giving away free passes to 25 people to the screening of Forever My Girl.  Here is a little bit about the movie:
Synopsis:  Liam Page (Alex Roe) and his high-school sweetheart Josie Preston (Jessica Rothe) were the golden couple of Saint Augustine, Louisiana, until Liam left her at the altar for a shot at fame and fortune. Eight years later, Liam returns to his tiny hometown for the first time as a world-famous recording artist, but not even his own father is thrilled to see him. As he tries to rebuild the bridges he burned years earlier, Liam reconnects with his small-town roots, his close-knit community and Josie, the girl he left behind. As he attempts to reclaim everything he loved and lost, Josie does her best to keep him out of her heart, but life has one more surprise waiting for Liam, one that could change everything, in this heartwarming look at love, family and second chances.
Trailer: https://www.youtube.com/watch?time_continue=150&v=5iEOQn8UUHI
Please send an email to Amanda at avannevel@nemerfieger.com.  She will give passes to the first 25 people who send her an email.  The screening is Tuesday, January 16th, at AMC Southdale.  The screening starts at 7:30PM but you are advised to arrive early.  See you there and enjoy the movie!
Comments
comments