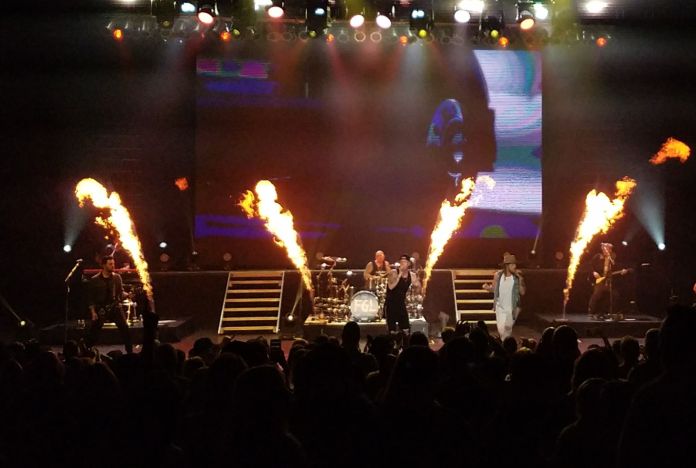 Florida Georgia Line came into town to be one of the premier Super Bowl Entertainers for the weekend of festivities.  Not only were they one of the premier acts of the entire weekend, they were one of the premier acts hosted by Mystic Lake in the Mystic Lake Showroom.  And the show did not disappoint!
The entire place was rocking as soon as they stepped on stage and started their first song Anything Goes to get the party started.  They continued to keep things rolling by going into It'z Just What We Do and Round Here from their first album.
Now the cool thing about seeing FGL in the Mystic Lake Showroom is that you won't see them playing in a crowd this size unless it's a private party.  And this is exactly what it felt like, which made the experience even better.  Tyler and Brian were able to interact with people in the crowd more than any other show of theirs I've seen in the last three years.
They talked to the crowd about playing some casino games and talked about how they were up at blackjack, then down, then up again, and especially up with the crowd tonight.  They then went into another song Smooth.  After Smooth, Tyler mentioned how he saw a girl in the gym earlier and she asked him for a pic.  He responded, after I'm done working out.  Well he ended up not getting a pic with her at the gym.  But he saw her in the crowd, and the reason he told the story, and they both jumped down, went into the stands, and took a few pictures with her.  That was super cool!
The music continued after that and they asked if we minded if they play one of their newer songs and also if we'd sing along.  They broke into Meant To Be and let the crowd sing Bebe Rexha's sections of the song.  They gave a shout out to Bebe for letting them be a part of the song and the crowd for singing along.
The duo made a comment that their manager said "We haven't sang in front of 2,000 people since we did worship together."  They laughed along with the crowd.  Which goes back to my prior statement that was as close to a private party with FGL as you'll get. 
FGL made some comments about Vegas Strong and all the flood victims this year.  They sang Music Is Healing and played a very touching tribute video in the background.  They transitioned into Sipping On Fire then H.O.L.Y.  Tyler joked about his daughter Liv loving that song and singing backup and dancing at their next show.  They closed out the main set with my favorite song Get Your Shine On.
They started the Encore with This Is How We Roll.  It was so loud in there you could barely hear the music.  The crowd was going crazy the whole show.  As I looked around throughout the night I think I saw less than 10 people sitting in their seats.  The night ended with Cruise.
It was a great night, great venue, and a great show!  I thought it was a serious privilege to be able to watch such a big act in that venue.  I can't wait to see the next show there.  On a side not, the next time you're going to a show at Mystic make sure to get there early and eat at The Meadows Bar and Grille.  The food there is great!  And is reasonably priced along with the drinks.  I've gone there the last two concerts now.  You won't be disappointed! 
Comments
comments