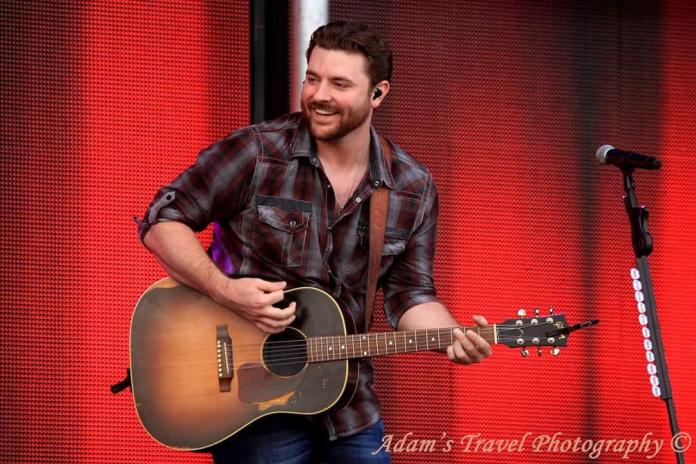 Over 10,000 Country Music fans descended on downtown Minneapolis this past Friday night to welcome Chris Young and his "Losing Sleep" tour. Young noted, that Minneapolis is the largest crowd the tour had seen thus far and he graciously thanked all in attendance.
LANCO warmed up the crowd with an upbeat set, showing off their hit songs "Born to Love You" and "Greatest Love Story" which brought an uproar of cheers from the crowd as they began to play. The band and lead singer, Brandon Lancaster, were eager to please the packed venue, and they did just that.
Kane Brown is a young, hot, up and coming artist in the country/pop segment of the genre. He defiantly has his own style and makes no apologies. Kane worked the stage with a cool, nonchalant stride, and eventually showed off an impressive two step as he performed an awesome segment of songs from his teen years. The heart of every lady in the house melted as his deep, smooth voice, filled the Target Center. His tattoos and muscular arms don't hurt either.  He's the perfect mix of Sam Hunt and Josh Turner, a country music hybrid that is racking up the hit songs that were even better in person.
Chris Young put on a great performance, charming the crowd with his smile and the best of his chart-topping ballads. "Aw Naw," "Lonely Eyes," and "Losing Sleep" showcased Young's beefy, full voice as he belted out his hits, one by one. There was no denying the support and excitement the fans showed for Chris here in in Minneapolis. There were many moments when the crowd absolutely erupted in roaring cheers for him, the volume could have rivaled a Sunday Vikings game crowd. Chris showed great energy and pride for this music as he entertained the packed house for about an hour and a half. His passion and talent will have him topping the charts and packing the house for years to come.
The coolest thing about the "Losing Sleep" tour is how uniquely different the three acts are. If you are in the mood to experience a sample pack of some of the best country music acts, this show is for you.     
Comments
comments