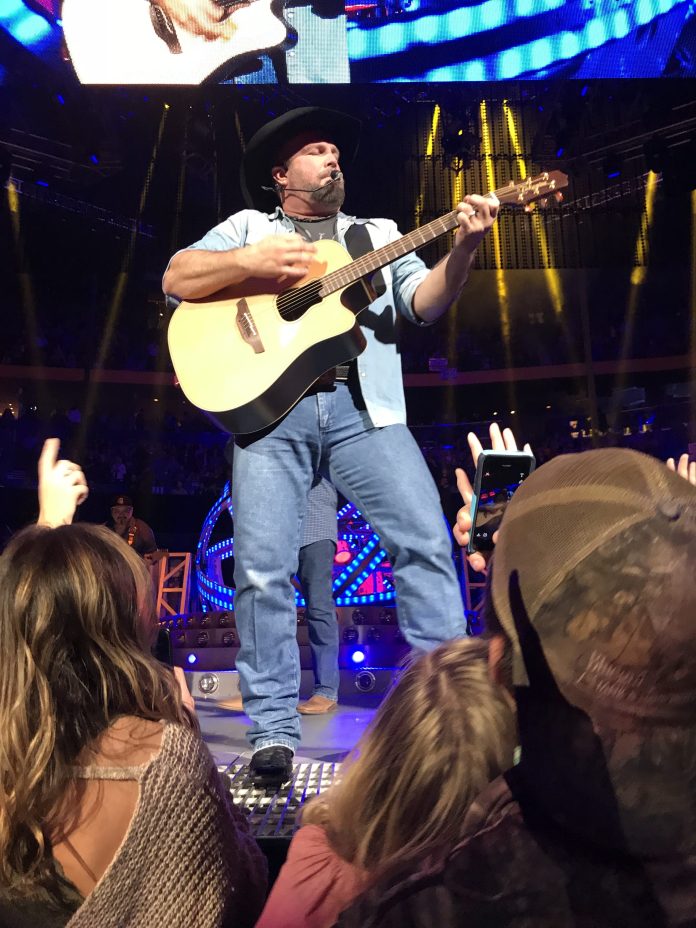 Garth Brooks has been on his World Tour with Trisha Yearwood for three years now.  He chose to finish up his North American leg of the tour in Nashville.  And for good reason, as everyone knows that is the country music capital of the world.  That was the perfect place and the show did not disappoint!
Garth started the show with one of his newer singles Baby, Let's Lay Down and Dance to get the mood started out right.  The crowd went crazy when he came out on stage and started playing.  He then went into one of his old classics Rodeo. 
He stopped the music to tell everyone the rules of the show for the night.  We have two rules for the show.  He said we know you all paid your hard-earned money to hear the classics.  So, rule number one is that we're going to play the old songs.  We're going to sing one new song and that's it.  Rule number two is that everyone has to sing along.  I think those are some of the best concert rules of all time!  He also said Dilly Dilly a handful of times throughout the night with the crowd obliging every time and saying it back.  It was great!
Trisha came on stage halfway through the show and she opened up with American Girl.  She played a few songs and ended her set with She's In Love With The boy.  Trisha sounded, and looked, great like always.
Garth started the second set with Shameless.  During this set he talks about all his band members, most of them have been with Garth for 10+ plus years.  A couple have even been with Garth from the beginning.  He let Robert sing Shout, which was a great performance.  Garth closed out the main set with Friends In Low Places, adding in the always fantastic third verse.  And ended it with The Dance, one of my favorite songs of all time.
None of us knew what exactly to expect when he came back out for the encore.  He started with one of his favorite songs Mom.  He said I see your signs to the crowd and proceeded to show as many as he could on camera and asked people what song they wanted to hear.  One person said New Way To Fly, Garth said he would try to remember it, but if it sucks, forgive me.  He found one sign by a person named Danielle and it said she had survived stage 3 cancer.  Garth asked her some personal questions about her chemo treatments and how she was doing.  He played Red Strokes for her.  It was a very cool thing to see. 
Garth then finished up with a cover of Nitty Gritty Dirt Band's Fishin' In The Dark.  He asked everyone to sing along and I think every person in the crowd followed his lead.  He ended the show with a great version of Standing Outside the Fire.  It was a fantastic show!
Chris Young opened for Garth and he did a great job.  He said he watched a Garth show with his dad when he was a kid and now his dad gets to see him open at a Garth show.  It was a very cool moment that I'm sure he and his family are very proud of.  He ended his set with his latest single Losing Sleep.
Comments
comments